By Enrico Trigoso – May 3, 2022 Updated: May 4, 2022
A pre-med biology and Spanish language student of Union College in Upstate New York was unenrolled and given 3 days to pack up and leave for refusing to get a COVID booster shot, after she experienced serious adverse reactions from a second Pfizer vaccine jab.
Diamond Puentes values her education a lot, she is a first-generation student who comes from a low-income household and was on an academic scholarship.
"I had no prior health issues before the vaccine. After getting it, I had side effects immediately. I ended up in the ER and I continue to have symptoms since then. And so when the school mandated the booster, I was reluctant to get it. I sent the school out an email letting them know my concerns: 'I ended up in the ER, I'm still sick from it.' I sent my paperwork from the ER, they denied that. I talked to my doctor, my doctor told me it was 'ill-advised' [to get the booster], nothing that I was saying was going to be accepted by the school," Puentes told The Epoch Times, audibly distressed.
"I've just been expelled. I've been unrolled from classes, not permitted on campus anymore. I got kicked out of housing," she added.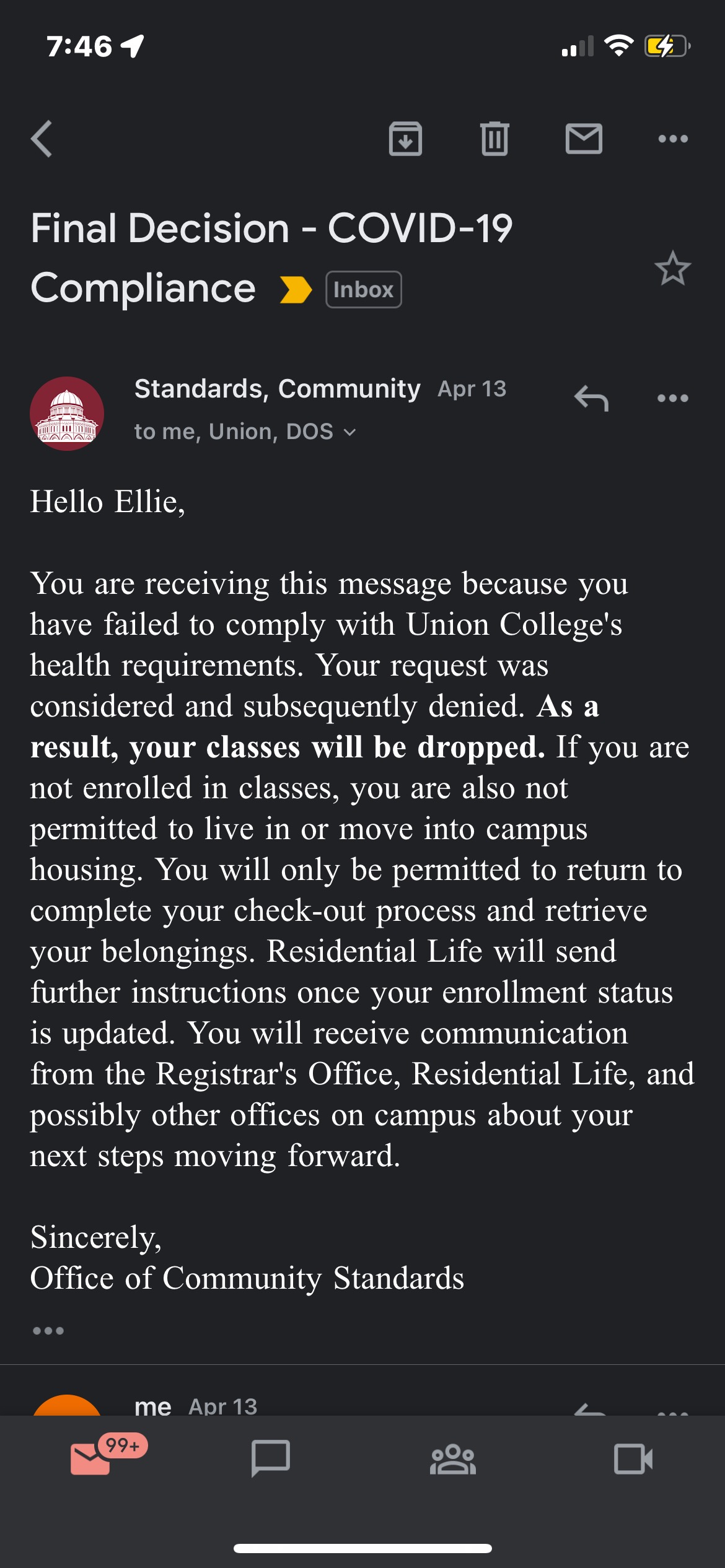 She is suffering to this day from constant nausea that sometimes leads her to vomiting, chest pains, and shortness of breath.
Puentes didn't know that there were going to be side effects from the vaccines.
"It was mandated by my school, I had to get [the vaccine]. So it wasn't something that I had a choice in and at that point [since] I value my education. That is my goal—to get back to college."
"I got sick right away. It wasn't stopping and then sharp abdomen pain," Puentes said. "I had no idea what was going on. I ended up in the emergency room. I was there for four, six hours at least. And doctors couldn't give me a diagnosis, [as to] why I got this sick."
"They just diagnosed with gastritis but they had no idea why it came."
Puentes got her first Pfizer dose in August and then got a second dose in September of last year.
"Just the other day I wake up randomly just puking and I don't know what the cause of that is, and then on top of that, I have shortness of breath. I can't work out like I used to. I'm getting chest pains where this never happened prior to the vaccine. And I don't know what's going on!"
She said she now has to deal with these health problems nearly every day.
"The puking happens more often than I would say the diarrhea and the shortness of breath. … I get these sharp pains in my chest and even my immune system, I believe, has just gone down. I've been more sick than I've ever been.
"I've been doing a lot more research now. And I saw the nine pages of adverse reactions that Pfizer released, and the symptoms I have are written all over that."
At the beginning of January, the FDA was ordered to release its first large batch of documents related to Pfizer's COVID jab trials, of which over 10,000 of about 450,000 pages have been made public so far.
From the first day of the Pfizer-BioNTech vaccine rollout on Dec. 1, 2020, through Feb. 28, 2021, 1,223 deaths and 42,086 adverse events were reported to Pfizer, including gastritis (pdf).
Puentes was told to pack up belongings that she had accumulated over two years, and asserts that the school administration evaded handling her situation in person.
"Nobody was speaking to me about this in person, it was just being handled all over email.
"I was sending emails saying 'can I speak to somebody in administration' and it was always like an excuse.
"It wasn't until I had to show up to somebody's office, unannounced, that someone in the administration finally saw me, and I was told just the same thing.
"I was told [by a school nurse], 'get Moderna then if Pfizer's not working for you," Puentes said.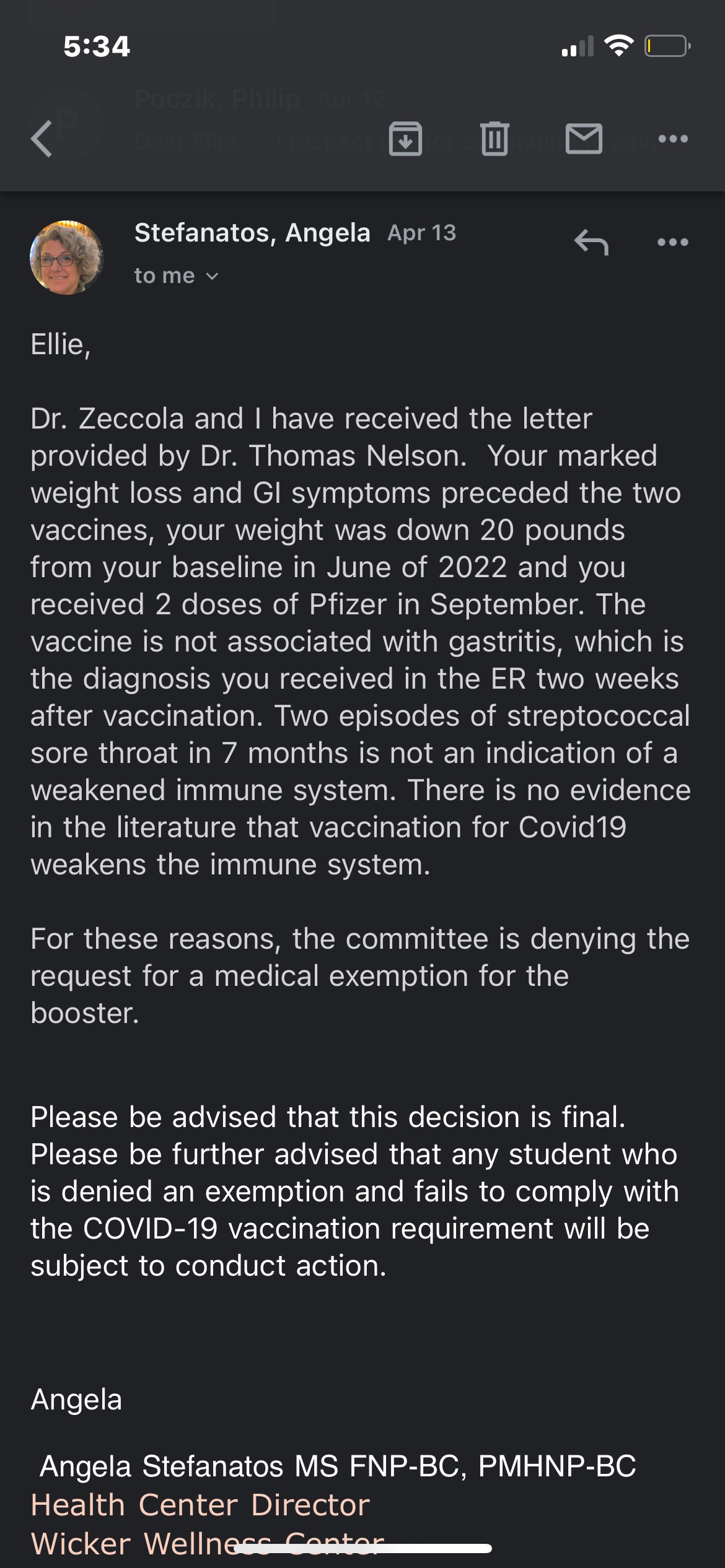 Puentes said that her friends started a GoFundMe page for her since she has to pay for three weeks she had been on campus and to raise money for legal counsel.
Union College responded to a request for comment to The Epoch Times:
"Being a vaccinated and boosted community has been critical to our ability to return to fully in-person learning and activities at Union College. Nearly 100 percent of our campus community is fully vaccinated and boosted.
"While federal privacy laws prohibit us from commenting on a student's medical or academic records, it is important to note that no student has been expelled for not complying with our vaccination or booster policy. We would welcome back this student tomorrow if she complied with our well-established policy regarding vaccinations.
"The College has granted a small number of medical exemptions to students of all backgrounds and circumstances, while denying many other requests, over the past several months. In each case, the specific rationale for a medical exemption was reviewed thoroughly by a team of medical professionals before a decision was reached.
"Those who are denied an exemption are given an opportunity to comply with the policy before any further action is taken," the statement reads.
Puentes also told The Epoch Times that she called Pfizer.
"They confirmed that the symptoms I'm having could be or are related to the vaccine because they have seen others with the same reactions."
The Epoch Times reached out to Pfizer for comment.
(Source: The Epoch Times)
---
What if she was a member of your family? In other words, what if a member of your family had a problem like hers? What would you do if the school refused your child to go to school because they refused the vaccine (booster or any dose)?
Below are comments from kind readers
harmonix.elizabeth2 days ago−
This BS needs to stop! The shots (I refuse to call them vaccines because a vaccine keeps you from getting the disease) DO NOT WORK!
Maha2 days ago−
"Angela Stefanatos" is a liar, or willfully ignorant of the current literature. She states" there is no evidence the vaccine weakens the immune system". This study says otherwise, please refer to it, download, and send it everywhere:
https://www.authorea.com/users/455597/articles/552937-innate-immune-suppression-by-sars-cov-2-mrna-vaccinations-the-role-of-g-quadruplexes-exosomes-and-micrornas
secuz1232 days ago−
So this WOMAN can't protect her life and her body, but the idiots on the left are crying about womens abortion rights? Hypocrites!
SunnyCan Can2 days ago−
She needs to get a full cardiac workup from doctors that are not bought and paid for… if I was her, I would contact the American frontline doctors who have been exposing this evil and see if she can speak to Dr. Peter McCullough…
henryselik2 days ago−
Sue the crap out of Union.
The only thing that will make their nazi administrators ( who apparently admit her sumptoms and condition is lokely due to the shots she received ) feel the pain of their grossly unfair decision is the loss of several million bucks to the school as well as s significant hit to the personal fortunes of those who passed down their edicts.
Unfortunately the makers of the vax are exempt from any liability as per legislation in late "80s, but the school, knowing of the potential hazards, is not.
Sue the eff out of the bastards.

gordon.bainbridge2 days ago−
All parents, students and financial supporters of this school should boycott the school until they bring Ellie back.
It seems that the only way to counter the administrative power of the entrenched left is to use coordinated people power.
If ALL students pulled out of class, they'd bring Ellie back, I'm sure!
Robert Gould2 days ago−Vote up+5Vote down
This poor girl is the victim of the unrelenting demands of a self-serving New York government that believes it knows it all and can make medical judgments.
While many will say find a lawyer and sue, I would advise her to simply find another college that will accept her transcript and does not have vaccines mandatory and make the switch.
This will save her time and allow her to proceed with her life.
She can also see a lawyer and try to get compensation for her distress.
virginia nedza2 days ago−
A political ploy to gain control of people. This government has gone so far left it's criminal what is being done to the American people. Satonic thinking has taken over in many liberal colleges. God Bless us who
fight against
this evil. We will win.
Ellie, I hope you find a college that does not mandate the vax. All the best to you.
Jay Stephen2 days ago−
I would contribute to her GoFundMe fund if it were anything but woke GoFundMe.
I will never contribute to any GoFundMe fund as they are the ones that confiscated the Truckers' Convoy funds in Canada.
james.brady2 days ago−
Shame on this institution, keep your head buried in the sand with your "vaccines are an effective policy". Vaccines are doing nothing to help you community. And Union ignoring the science is doing nothing for their reputation. I'm so sick of this crap! She needs to sue and we all need to get mad!! We send kids to college to be educated, not to be forced to take an extremely harmful drug, she has a right to decide what goes in her body. Get mad people!
The crazy left are just digging heels in deeper…this is nuts!
Modern Patriot2 days ago−
The school should be closed down for threatening the health and safety of their students. She will be better off at a different school that values her as a person.
Karen Baker2 days ago−
I hope that she sues the school.
These shots are poison.
I pray that she does not comply.
The school should release how many students have supposedly tested positive for the virus after receiving these poison death shots.
There are going to be a lot of lawsuits against companies and schools who demanded that their employees and students be injected and then either died or had serious adverse effects and sue Dr. Fauci and his partners in crime for pushing the lie.
He is a very evil man.
jbowling2 days ago−
You are an intelligent and beautiful young lady. I pray for you to recover your health and find a college where you can pursue your education free of demagoguery.
Clare Goldsberry2 days ago−
So sad! These schools are trying to kill off their students. No compassion! It's illegal to mandate an EUA in the first place! Why don't people know that?? Few research and read!
Maybe without the booster she will get better. Prayers for her.
Douglas Tong2 days ago−
Diamond, may you find another institution to accept you without qualifications, give you a scholarship based on the excellent student you have been and will continue to be, and, ultimately may your goal of becoming an MD come true. Pursue your dreams relentlessly and you will succeed! God Bless!!